With the Gray Short Front Sports Top Long Sleeve All Over Smooth, you'll love being able to put together a stylish athleisure look that goes where you go.

It Features:

1. Added spandex gives the top just the right amount of stretch for that perfect fit;
2. Short front and long back detail is one of the highlights of this top;
3. Hoodie has a thumbhole design to prevent sleeves from rolling up during activities;
4. The cut-out adopted in the bust area, and the well-tailored arm slimmer adds a sexy look;
5. This crop top is suitable for multi-occasions, you can pair it with pants and skirts for a casual look.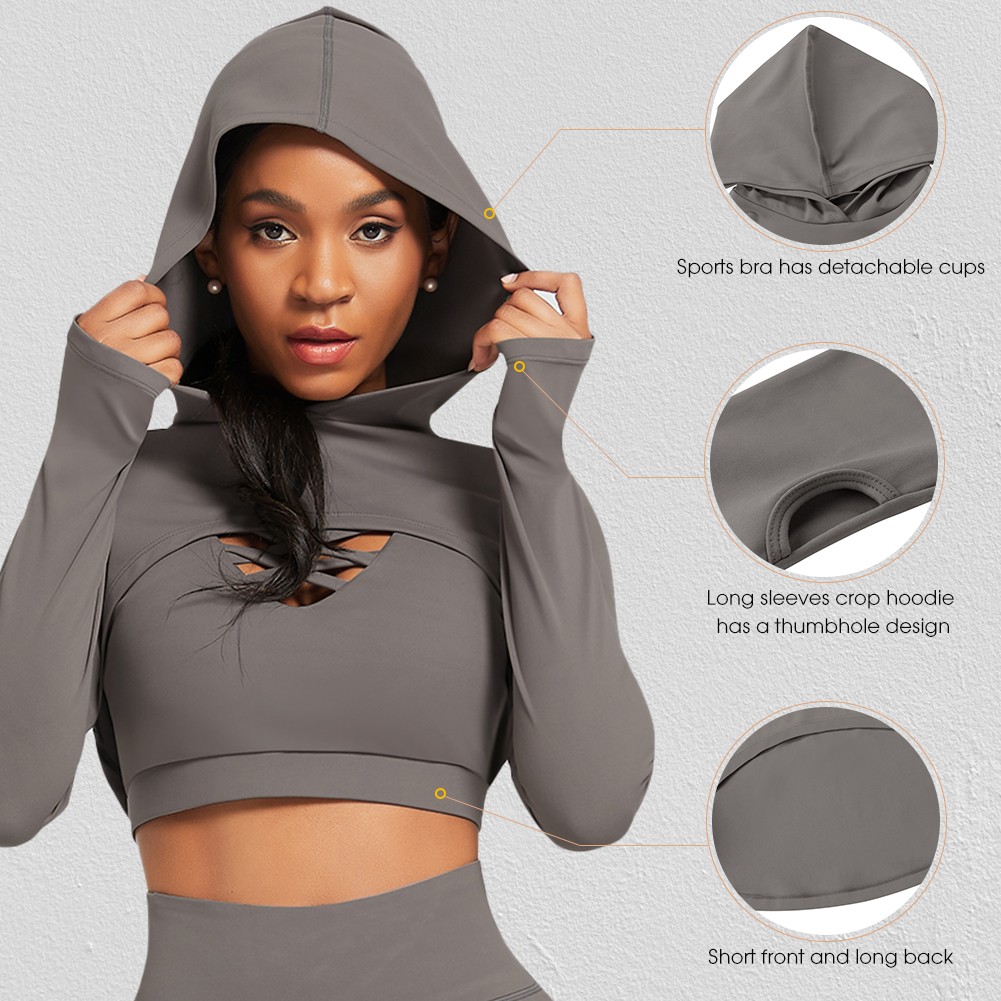 | size | us | ukaunz | italy | france | spain | germany | janpan | russia | bust | former_length | back_length | sleeve_length |
| --- | --- | --- | --- | --- | --- | --- | --- | --- | --- | --- | --- | --- |
| S | 4-6 | 8-10 | 40-42 | 36-38 | 36-38 | 34-36 | 9-11 | 42-44 | 86-94 | 10.5 | 33.5 | 63 |
| M | 8-10 | 12-14 | 44-46 | 40-42 | 40-42 | 38-40 | 13-15 | 46-48 | 90-98 | 11 | 34.5 | 64 |
| L | 12-14 | 16-18 | 48-50 | 44-46 | 44-46 | 42-44 | 17-19 | 50-52 | 94-102 | 11.5 | 35.5 | 65 |
| XL | 14-16 | 18-20 | 50-52 | 46-48 | 46-48 | 44-46 | 19-21 | 52-54 | 98-106 | 12 | 36.5 | 66 |
| size | us | ukaunz | italy | france | spain | germany | janpan | russia | bust(Inch) | former_length | back_length(Inch) | sleeve_length(Inch) |
| --- | --- | --- | --- | --- | --- | --- | --- | --- | --- | --- | --- | --- |
| S | 4-6 | 8-10 | 40-42 | 36-38 | 36-38 | 34-36 | 9-11 | 42-44 | 33.9-37.0 | 10.5 | 13.2 | 24.8 |
| M | 8-10 | 12-14 | 44-46 | 40-42 | 40-42 | 38-40 | 13-15 | 46-48 | 35.4-38.6 | 11 | 13.6 | 25.2 |
| L | 12-14 | 16-18 | 48-50 | 44-46 | 44-46 | 42-44 | 17-19 | 50-52 | 37.0-40.2 | 11.5 | 14.0 | 25.6 |
| XL | 14-16 | 18-20 | 50-52 | 46-48 | 46-48 | 44-46 | 19-21 | 52-54 | 38.6-41.7 | 12 | 14.4 | 26.0 |